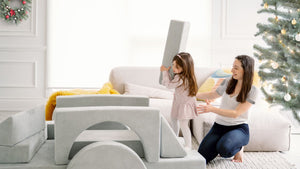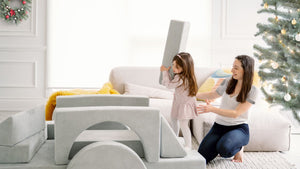 Bring Imagination To Life With An 11 Piece Play Couch
CUSTOMER REVIEW
PERFECT GIFT!!!
After searching through many many kids couch options, my partner and I landed on Barumba Play! The 11 pieces coupled with the waterproof liner was an absolute sell for us. We received our purchase SO quickly and set it up a week before Christmas to let it breathe out of the box. It's been a hit! Our kids are always building/climbing or relaxing. So happy we decided to go this route for a gift! Thank you Barumba!!!
So what's a play couch?
Kids' Couch
A WASHABLE modular couch meant for the kids to enjoy without worry.
11 Light-Weight Pieces
Rearrange the cushions into endless configurations or use it as a couch.
Endless Possibilities
Turn your living room into a world of imagination by creating forts, castles and more.
FITS IN ONE BOX
WHAT'S INCLUDED?
11 modular foam cushions with microsuede fabric covers
Waterproof liners on each cushion
A box that turns into a play house
Ships from Toronto, Canada
Holiday Morning Build Ideas
Santa's Sleigh
Tea Time
Dreidel
Menorah
Chimney
Santa's Workshop
CUSTOMER REVIEW
HIGH ENERGY TODDLER
We bought this for our high energy adventurous toddler for Christmas & it is such a hit! The cushions are a perfect firmness, the covers are great quality & number of pieces you get is excellent. Definitely worth buying!
Depending on your proximity to Toronto, Canada it can take between 2 days to 2 weeks to arrive. Order early to ensure it arrives on time.
Yes. We make them locally and ship them out quickly so they are not in the box very long by the time they arrive to you. So they can stay in the box until Christmas/Hannukah.
Yes. We have Sezzle available at checkout.
(If you have your information pre-filled in and don't see it, you may need to check out as guest.)
Depending on your individual family, our play couch can be covered under insurance as a therapy tool or in select provinces by government funded programs.
We ship play couches within 3 business days from Toronto, Canada.
During peak holiday periods such as Black Friday, it will take an extra few days to be shipped.
Yes. We offer a one year warranty policy. If you open it Christmas morning and have any issues please email hello@barumba.ca with any photos and explanation of the issue.
Proudly Made in Canada
We start by sewing our super soft covers, complete with YKK zippers, zipper garages and a strategic handle.
We then sew our waterproof liners that come standard on every cushion because we know accidents happen.
Our foam is then made and precisely cut at our foam manufacturer in Ontario, Canada.
We assemble, vacuum seal and pack your play couch before shipping it out to your family.
CAN STAY IN THE BOX UNTIL XMAS MORNING